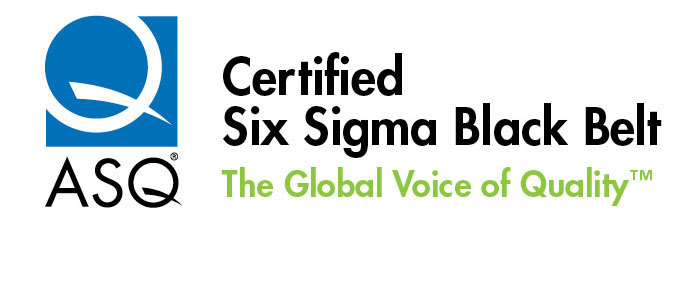 I started taking the
ASQ
Six Sigma certifications in March 2016, to be specific, I took
Certified Six Sigma Yellow Belt
(CSSYB) in March 2016 and
Certified Six Sigma Green Belt
(CSSGB) in June 2016.
Unlike Yellow Black and Green Belt, a
Certified Six Sigma Black Belt
candidate is required to have two completed projects with signed affidavits or one completed project with signed affidavit and 3 years of work experience in one or more areas of the Six Sigma Body of Knowledge.
I already have more than 3 years of work experience in Cameron and so I used one of my Six Sigma Green Belt projects (Warehouse Picking Cycle Time Reduction) in Cameron as my affidavit, signed by the Operations Manager, who was my project champion.
I was still a member of ASQ, so I enjoyed the discounted exam fee at
US$388 (S$570)
.
My last day in Cameron was 6 Jan 2017 and I'm joining Seagate as a Lean Engineer, and so I requested to join Seagate on 19 Jan 2017, which is a day after my CSSBB exam, so strategically I have time to study at ease during the period I was jobless.
ASQ has recently phased in computer-based testing, so similar to
PMP
and
PMI-ACP
, the CSSBB exam is delivered by Prometric testing centers, and again, my ex-colleague and I booked our slots at the King's Arcade branch.
Good things about computer-based testing:
You'll know your results immediately after submitting the answers.
No more pencil marking and erasing.
And also a few bad things about computer-based testing::
Unlike pencil-based testing, all materials accompanied (it's open-book exam for CSSBB) into the examination room are strictly inspected by the proctor. To sum it up, make sure your materials are binded, not stapled; and no sample Q&A portion can be taken in - they flip through almost every page to check on that.
When it comes to reviewing each question, you have to click one by one as one question is displayed in one screen, so you can't take an quick overview of a section.
Why Six Sigma certifications?
I had my first job landed in Cameron as a Global Rotational Development Program trainee, ever since then, I was exposed to the Six Sigma methodology because Cameron was a Lean Six Sigma enterprise.
I'm thankful that I was given the opportunity to lead the warehouse project which also served as my very first Lean Six Sigma Green Belt project. This first step was important in keeping me motivated further to subsequent Green Belt projects, which in time I closed a total of 3 Green Belt projects, entitling me to be certified as a Cameron certified Six Sigma Green Belt.
I believe it's the success and job satisfaction derived from project results and deliverables that made me persevere in the Lean Six Sigma discipline, to the point that I wanted to take ASQ Six Sigma certifications and considered this field for my future career.
How did I prepare for CSSBB?
You probably don't want to follow my footstep for this, because I only seriously started to study 2-3 weeks before the exam. Do a search online for tips, they'll tell you to start preparing at least a few months before hand.
The reason why I did last minute preparation is because I was busy (actually, lazy... XD). Also, I have read one of the modules in my Master of Science program in NUS last year, titled
Applied Engineering Statistics
, which comprises of the essential topics in
inferential statistics
. This saved me a lot of time going through topics in hypothesis testing, ANOVA, regression, DOE etc.
The two most common preparation materials available are:
I used the
CSSBB Primer
(2014 Edition) I already had there available from someone else. I personally have not gone through the handbook so I can't judge which book prepares the candidate better. But what I can say is,
the real exam questions are pretty similar to the CSSBB Primer Solutions Text
.
It's a 165-question, 4.5-hour-long exam, where 15 of them are unscored. I finished and submitted my answer in 3 hours because I just don't feel like wait any longer. It's pretty draining as well for 165 questions, but I told myself that I had worse from PMP, which was 200-question.
As mentioned, the results will show on the screen after the answers are submitted, and thank God, I passed.
I do feel contented with the certifications I've achieved so far,
CSSYB
,
CSSGB
,
CSSBB
,
PMP
and
PMI-ACP
, all done within 10 months on first try, while I was still studying for my master's degree. Grateful.